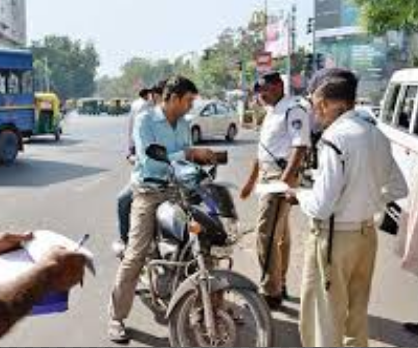 Curbing corruption through digital means is a big step. Issuing challans via the digital way is also a step in that process. Especially, the issuing of challans for those who don't take traffic rules seriously. Motorists who violate the traffic rules need to be reprimanded. They need to be given strict punishment, yet it should also be ensured the penalty issued is not filling up the coffers of those who aren't entitled to take the money.
As the case being with issuance of challans, more transparency is a need of the hour.E challan is a perfect tool to ensure that. Just like a normal challan, an E challan can be issuedto motorists who commit offences like jumping a red light, driving helmet less, ignoring signs and driving sans any license.
But what if there is shortage of cash and payment then and there is not possible. Well, in that case authorities can explore the option of making an E challan. Payment for an E challan can be made through recharge platforms like Paytm, Freecharge, Mobikwik, Phonepe and iReff. Such platforms ensure an E Challan payment can be made in short & easy steps.
Easy steps to pay an E Challan
Going online and paying an E challan is a cashless way conducting transactions. Moreover, with an E challan one can avoid the hassle of running to an ATM.Also an offenderneed not be anxious about the unavailability of ready cash. As one has the option to pay fines instantly through easy, secure and highly responsive online payment portals.
The case being there are many platforms which enable traffic offenders to pay their penalties online as an E challan. Best part about such platforms is they are a very secure way of making a challan payment online without one having to worry about the hassles associated with making online payments. In fact such platforms are one of the best ways to pay a challan.
Benefits of an E Challan
E challan payment is available 24×7.So one need not worry about hard cash in hand, yet at the same time vehicle owners also end up receiving deals, discounts & cashback offers every time they decide to pay penalty through the platforms. With a help desk available round the clock, grievances and issues can be handled by a support team of trained customer care representatives.
Worth mentioning that an E challan is generated by a machine against the vehicle's number, vehicle owner does an electronic money transfer through an online payment platform. All one needs to do is just log on and make payment with a credit card, debit card or an E wallet. While doing so vehicle owners need to enter variables like challan, vehicle number, city name and mode of payment. Now once the transaction successfully goes through, vehicle owners will receive an auto update on their registered mobile number and email ID. The result being everything is highly transparent and the money is also received by the right recipients.