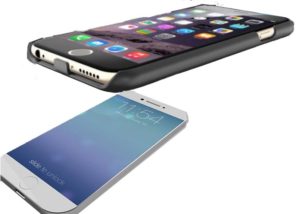 You've just unboxed your new iPhone 6. While it certainly has Apple's clean lines and polished aesthetic, it lacks those traits that make it feel like your own. Here are a few practical and artistic touches you can add that will transform a generic iPhone into one you can truly call yours.
Pick a Wallpaper
Wallpapers are images that sit behind your lockscreen or desktop. As such, you'll see them often, and should pick something that is pleasant to look at.
Good options include a personal photo you enjoy, or a generic pleasing background texture. You can even select wallpapers that blend in with the phone's interface, making your apps appear on shelves or scattered across a grid.
Change Your Icons
You can also change the iPhone's interface icons. By downloading or creating PNG images, then using the iExplorer app, many of Apple's default icons can be changed to any of your choosing.
This is a great opportunity to express your own creativity. But if you aren't up to the challenge, many sites feature icon sets you can download and use for free or for a small fee. You can also often repurpose images and shrink them to fit within standard icon dimensions.
Skin Deep
If you like your device's sleekness but want a custom look, skins are a great option. They are inexpensive, can be custom made, and are easy to swap.
A skin doesn't offer the full drop protection available in most iPhone 6 cases, but it does provide protection against scratches and other surface defects. If you want a quick change but don't want to bulk up your phone, a skin is a great way to completely transform its appearance. On the Case
Cases are great for changing your phone's appearance, adding protection, and even including additional capabilities. Since iPhones are made primarily of glass, an iPhone 6 case protects your phone's screen or body from shattering when dropped. Given how light and slick the iPhone's surfaces are, even the most cautious among us can easily drop and damage them.
Phone cases can also change the ways we use our phones. Wallet cases can add card holders and other features that transform the iPhone into a way to carry money and other valuables. Likewise, battery cases extend an iPhone's use by charging its reserves from an extra power supply built directly into the back of the case.
Conclusion
Our smartphones are extensions of ourselves. While the above ideas are powerful ways of customizing the iPhone, they only scratch the surface of what is possible when we strive to make our devices unique to who we are.
(Visited 1 times, 1 visits today)